Hello Middle School families,
Last month I discussed our middle school math standards and discussed how they will prepare our students to excel in High school. I wanted to use this month's blog post to review out Middle School science standards, the Next Generation Science Standards (NGSS).
The NGSS is a US-based, national-level science curriculum framework. Created in 2013 by the National Science Teacher's Association, they represent an effort to connect three important domains of science learning: Content information, real-world science skills, and broad concepts that link together several scientific domains. In terms of NGSS, these domains are called Disciplinary Core Ideas, Science and Engineering Practices, and Cross-Cutting Concepts.
Each standard is addressed with language to speak to these three domains. Let's examine a standard covered during Grade 7 science.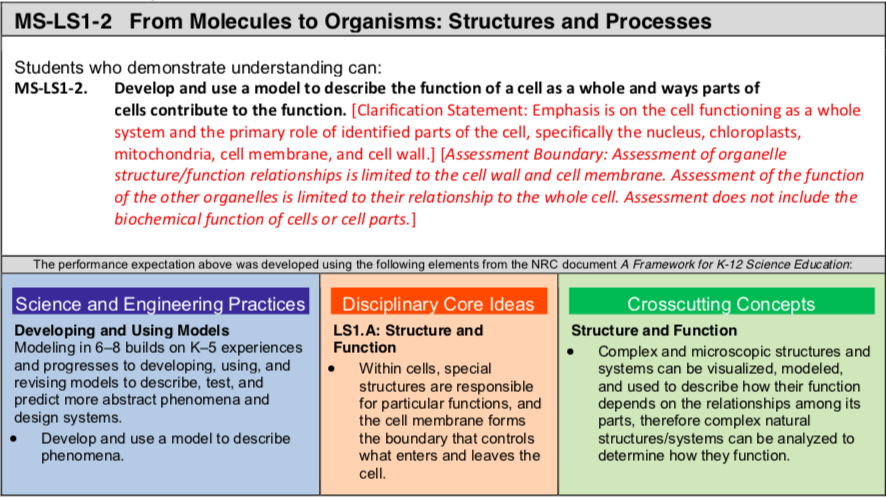 The Language in the standard provides for all three domains. Students will retain and internalize facts about cells such as their various organelles structure and function. (DCI) How they will gain this knowledge is by building a model. (Sci& Eng practices) While building this model they will understand that structures too small to be observed can be understood through a model. (Cross-Cutting Concepts)
Additionally, the standard provides several benchmarks by which the student can be judged to have met the standard, which are used to create rubrics to give grades and asses students.
The content in middle school science can be broken into two groups: Life Science and Physical Science. Life science topics include ecosystems, cells, and evolution. Physical Science topics include force, motion, energy, electricity, and chemistry. Earth and Space science topics are covered in Grade 6 science. This breakdown is different from elementary school, which would combine small sections of Life, Earth & Space, and Physical sciences into one year. We want to better reflect what science courses will be like in High School for Elementary students, so we believe that extended year-long courses in these topics are best for our middle school.
The textbook sets we use to teach these standards are the Science Fusion Textbooks. Details on the textbooks can be found here.
If you have any questions concerning what we are doing in science feel free to ask. Currently, grade 7 is working on modeling a wolfpack population by creating a board game. Grade 8, starting next week, will be working on an egg drop engineering challenge.
Thank you and have a great day,
_Mr. Serpico